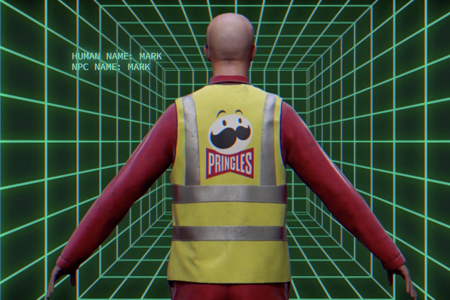 ---
Stay in the Game
Carat UK
---
Client: Kellogg's x Pringles

In a groundbreaking move, Pringles shattered the barriers between reality and fantasy in 2021. We brought Frank The Zombie, a flesh-eating undead creature, straight out of a video game and into the real world. Suddenly, this eerie being became every gamer's ultimate companion, defying expectations and blurring the lines between fiction and reality.
But we didn't stop there. In 2022, we decided to flip the script once again and bring our fans into a whole new dimension – the world of video games. Imagine being offered a paid job in a virtual universe where you don't even have to lift a finger! It's a revolutionary concept that pushes the boundaries of what's possible, placing Pringles at the forefront of innovation and adventure.
In the face of challenging business conditions, we refused to settle for the ordinary. Instead, we embraced chaos, unleashing our creativity and daring to think differently. Our goal? To ignite conversations, captivate minds, and inspire more people than ever to indulge in the irresistible taste of Pringles.
So join us on this thrilling journey as we break free from the ordinary and dive headfirst into a world where imagination knows no bounds. Get ready to let your taste buds and your imagination run wild, all while Pringles takes center stage in the conversation and consumption of pure, unadulterated joy.