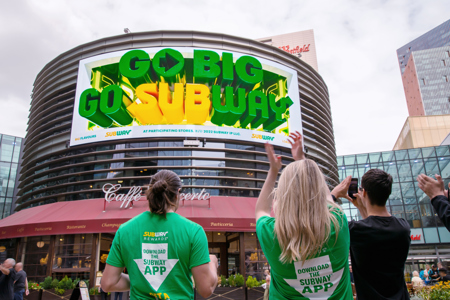 ---
Subway - Make Your Own
EssenceMediacom UK
---
Client: Subway

How do you celebrate a well-loved ritual, with an audience whose attention is harder than ever to gain?
By understanding where they personalise their experiences, and how they buy.
During the pandemic, the digital delivery economy significantly expanded, introducing a diverse range of cuisines to Gen Zs online. As McDonald's and KFC had established eCommerce as a standard in the food industry, Subway needed to ensure that their signature product, the Footlong sub, maintained its prominence in the competitive fast-food market, where a smorgasbord of other food options was just a few clicks away.
To show that Subway, and its customisable Footlong product, was a brand whose time had come with the advent of digital personalisation; we took the opportunity to place Subway in the virtual world, but deliver in the real world, through innovative media which inspired, delighted – and delivered.
Our solution? A 3D interactive digital OOH billboard, that was a worldwide media first, which proved to be as effective as it was innovative. Using the latest in OOH technology, Subway was able to take consumers from the digital world to the real world in moments, playfully capturing how Genz's view the world and celebrating Subway's iconic Footlong product with the audience that love it best.