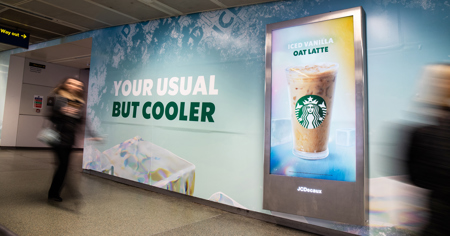 ---
Starbucks UK, Building Audio Distinctiveness and a Sonic Identity with Gen Z+
Havas Media
---
Client: Starbucks

Starbucks is one of the most recognisable brands in the UK, however their store footprint and ability to attain media SOV is dwarfed by Costa Coffee, so we were tasked with crafting a media solution to punch above our weight to increase Consideration with GenZ+.
We identified that audio would be a critical channel to deliver on this given:
Audio's powerful Attention score 25% higher (index) than META.
The channel's ability to deliver short term sales uplift.
Opportunity to develop a unique mnemonic inspired by a GenZ organic behaviour identified through social listening.
Allowed Starbucks to show up in "Moments in Between" the brands new creative platform.
Utilising the powerful capabilities that digital audio channels unlock meant Starbucks could generate more targeted incremental reach through 2nd & 3rd party targeting solutions, lean into moments that had highest potential to convert Consideration into Purchases through dynamic executions, and drive brand distinctiveness through our GenZ inspired mnemonic. This pivot in their audio strategy contributed to a 1ppt increase in GenZ Brand Consideration scores, delivered exceptional short term RROI and encouragingly the brand saw a massive 9.5% uplift YOY on Ad Recall for audio vs category buyers.